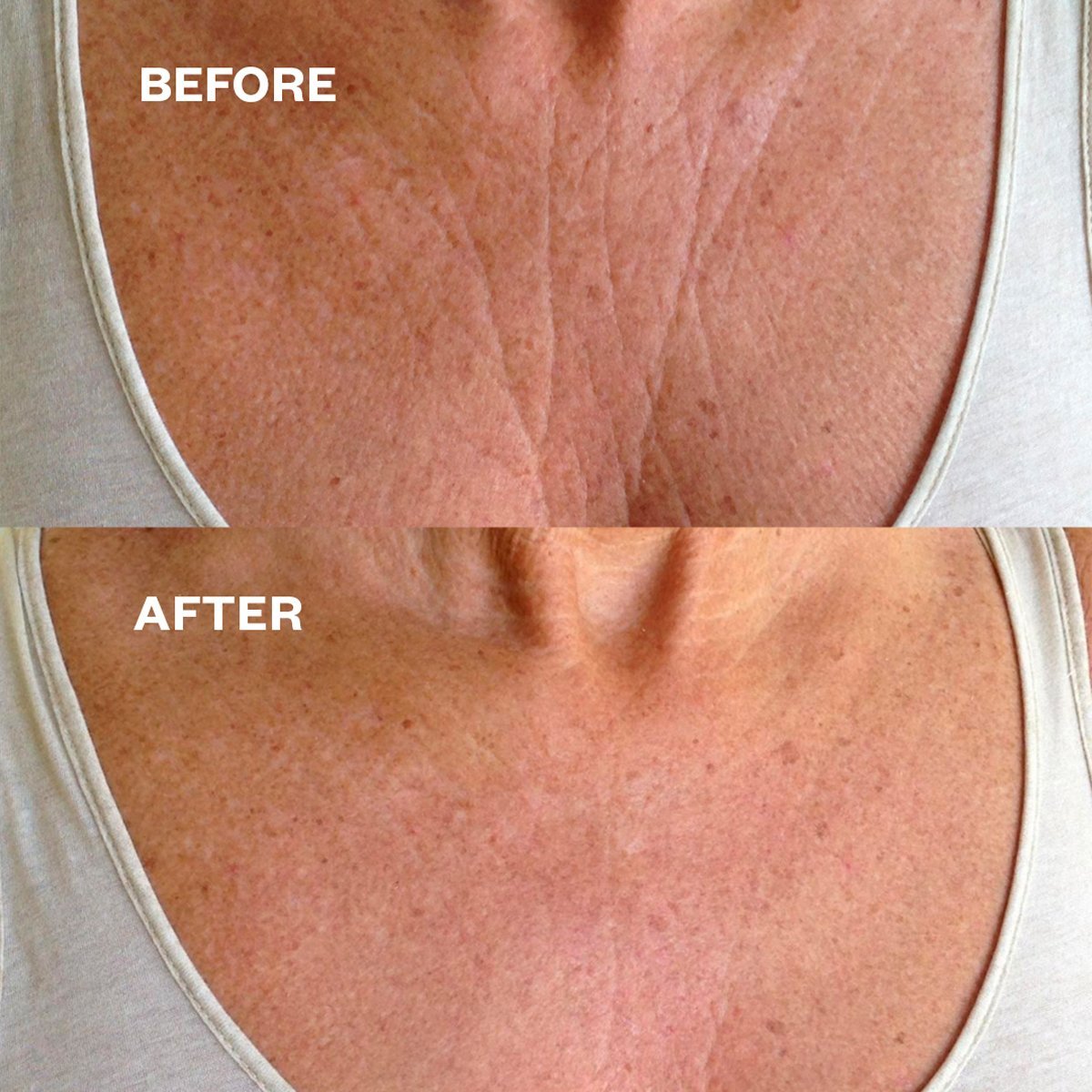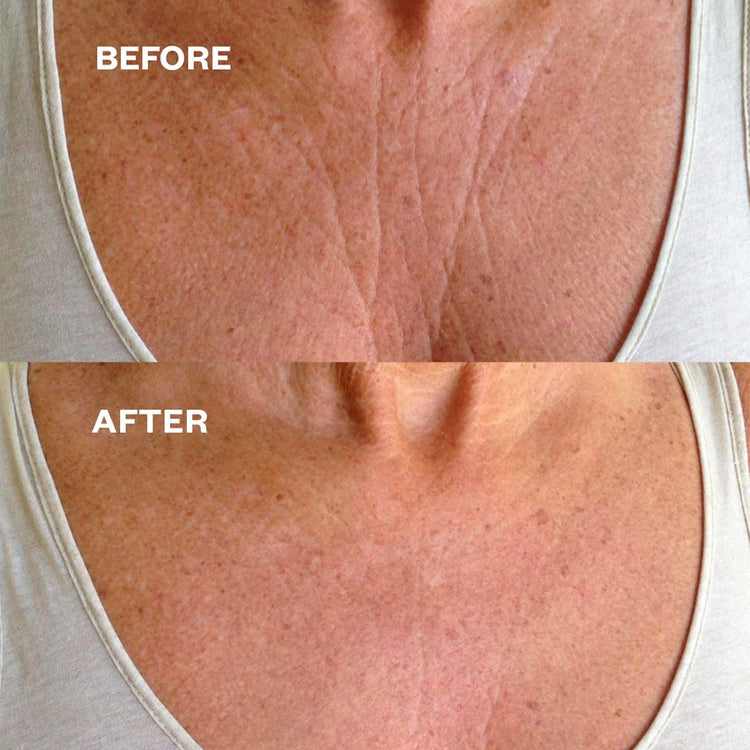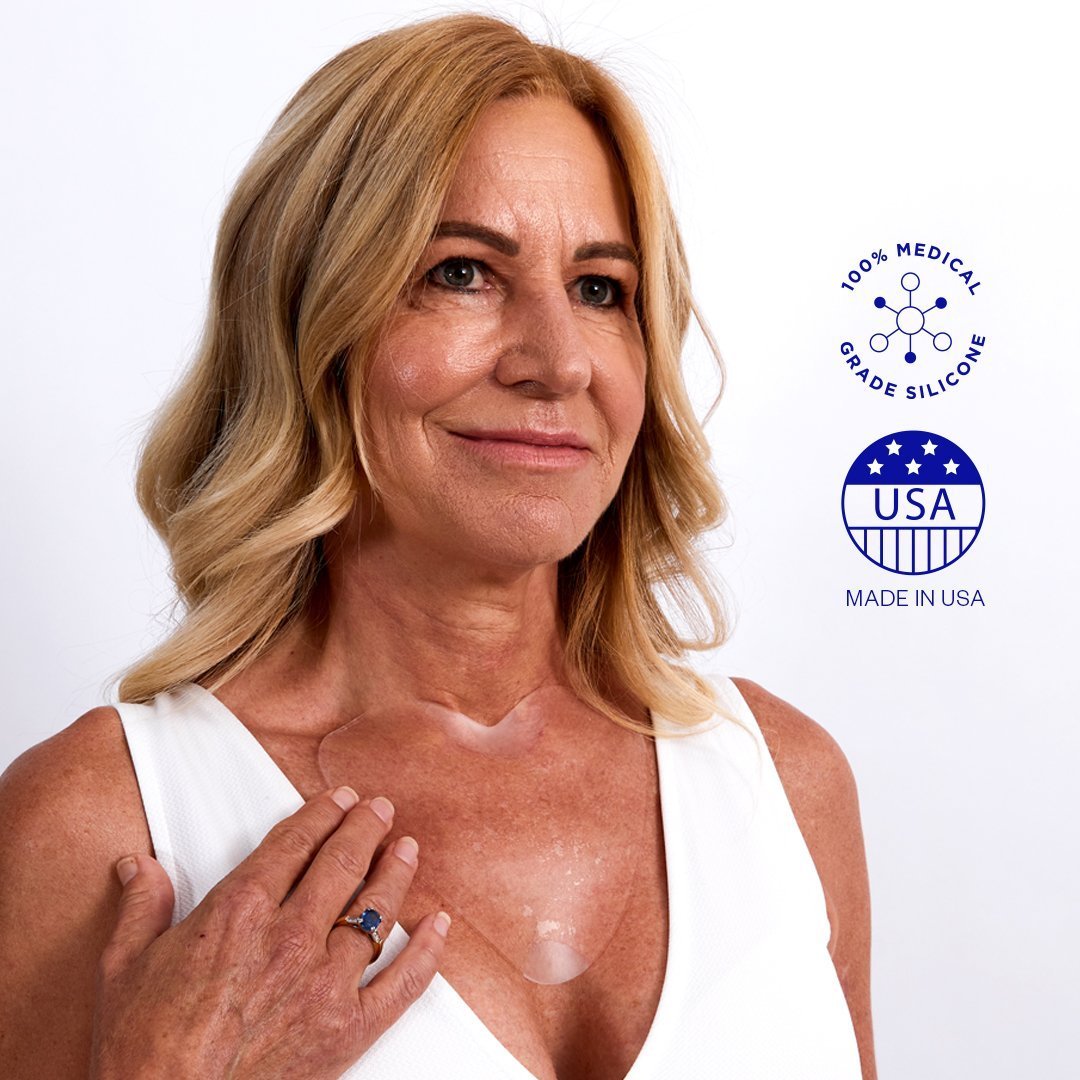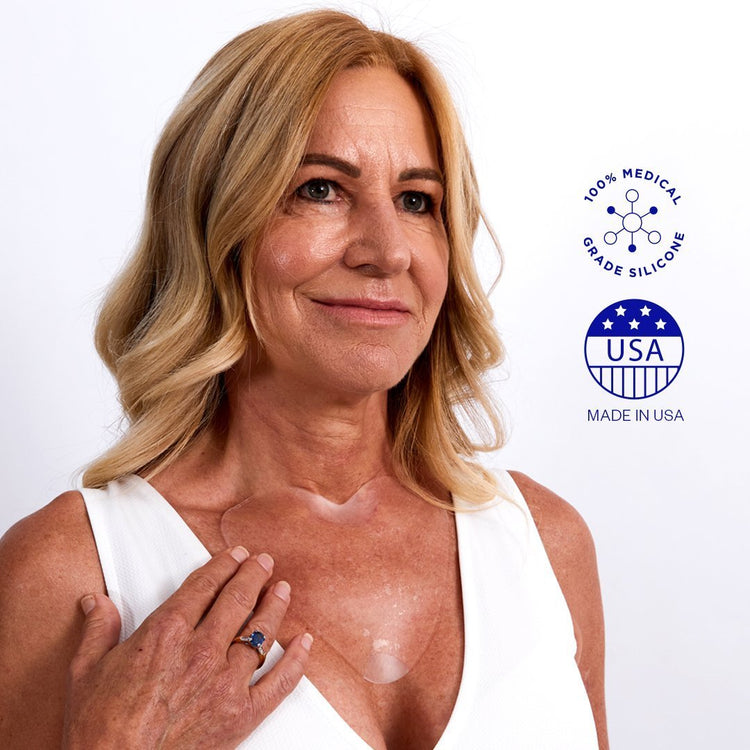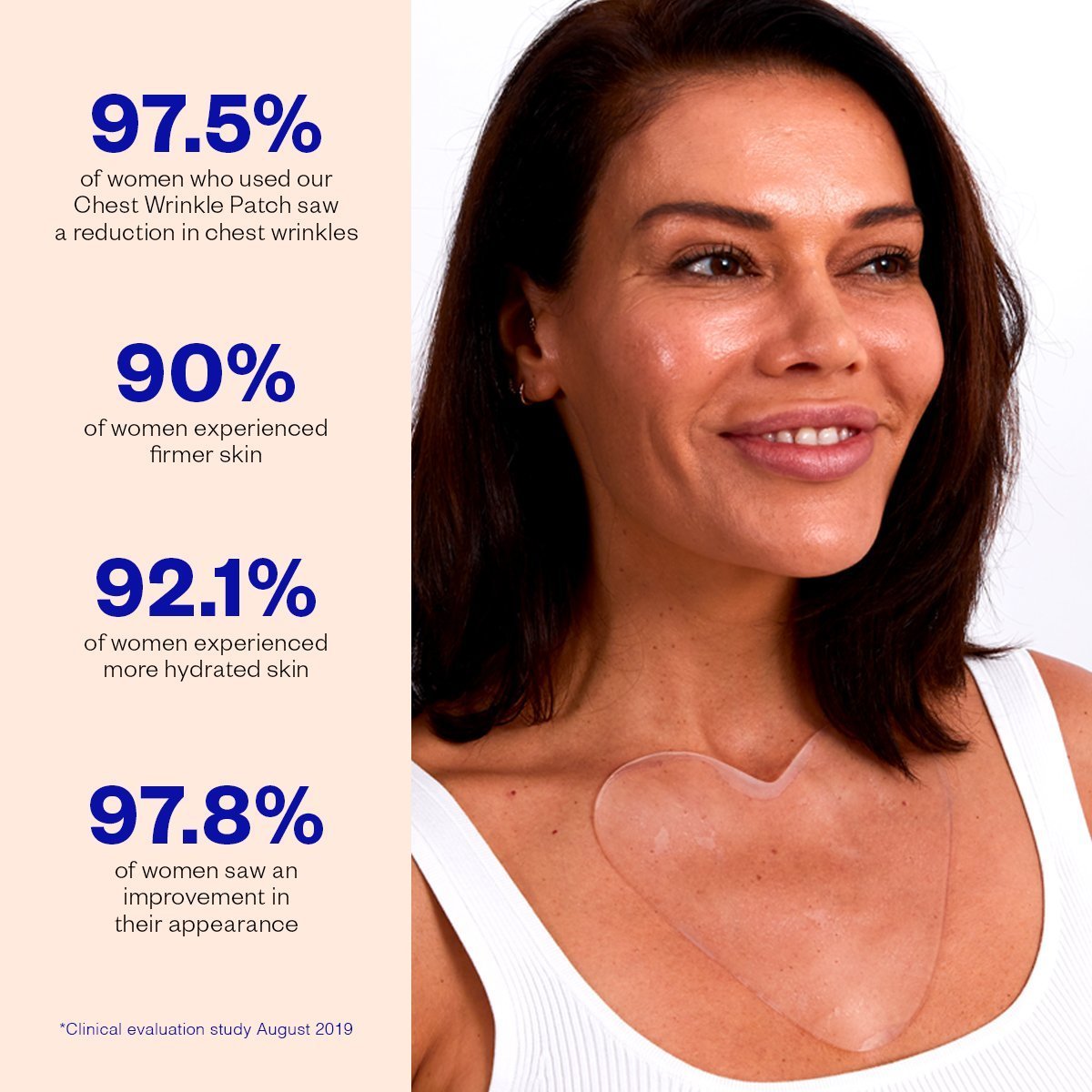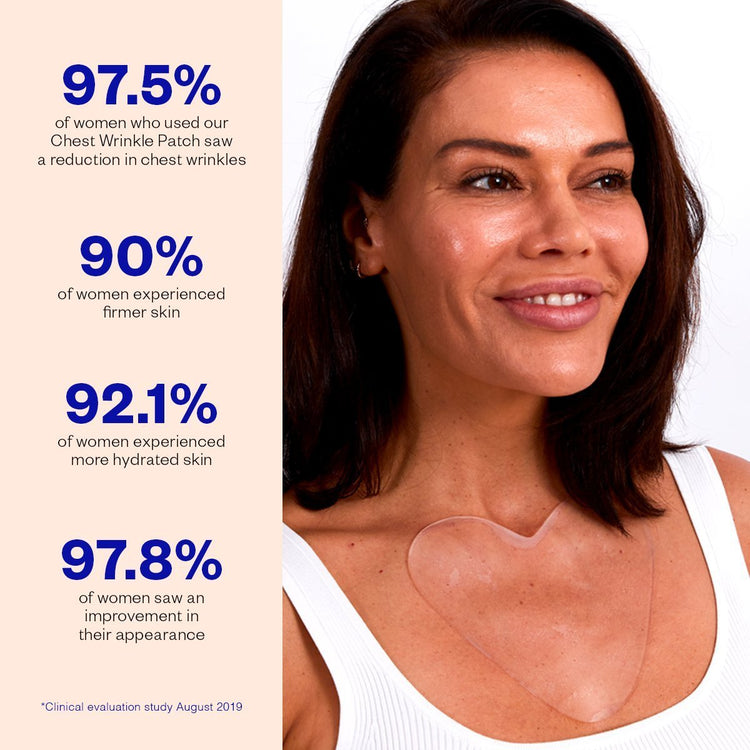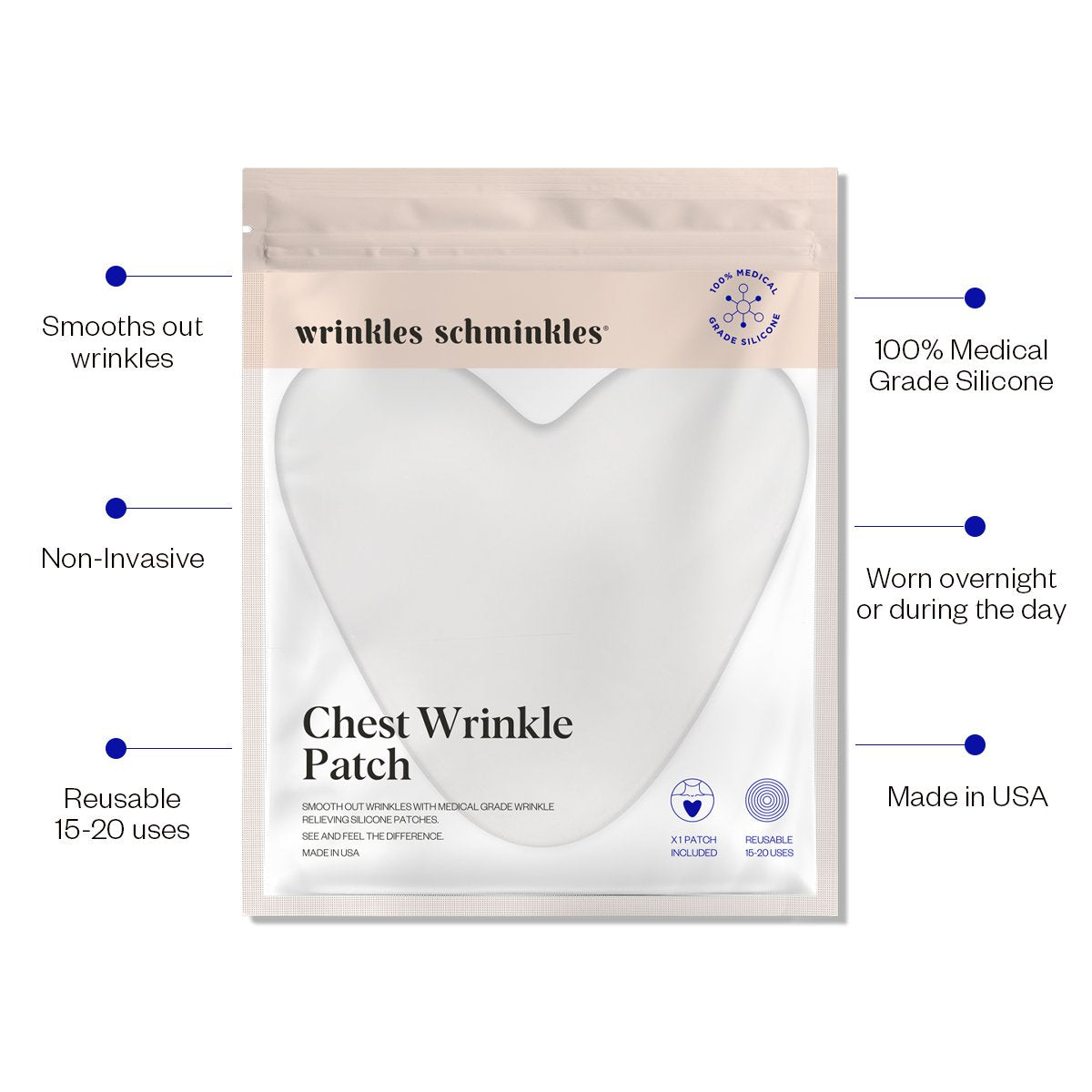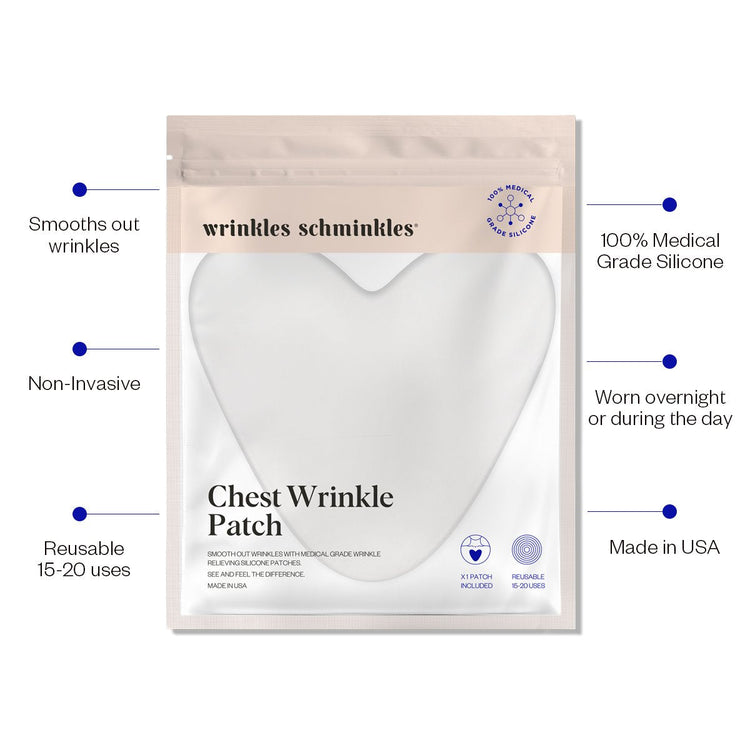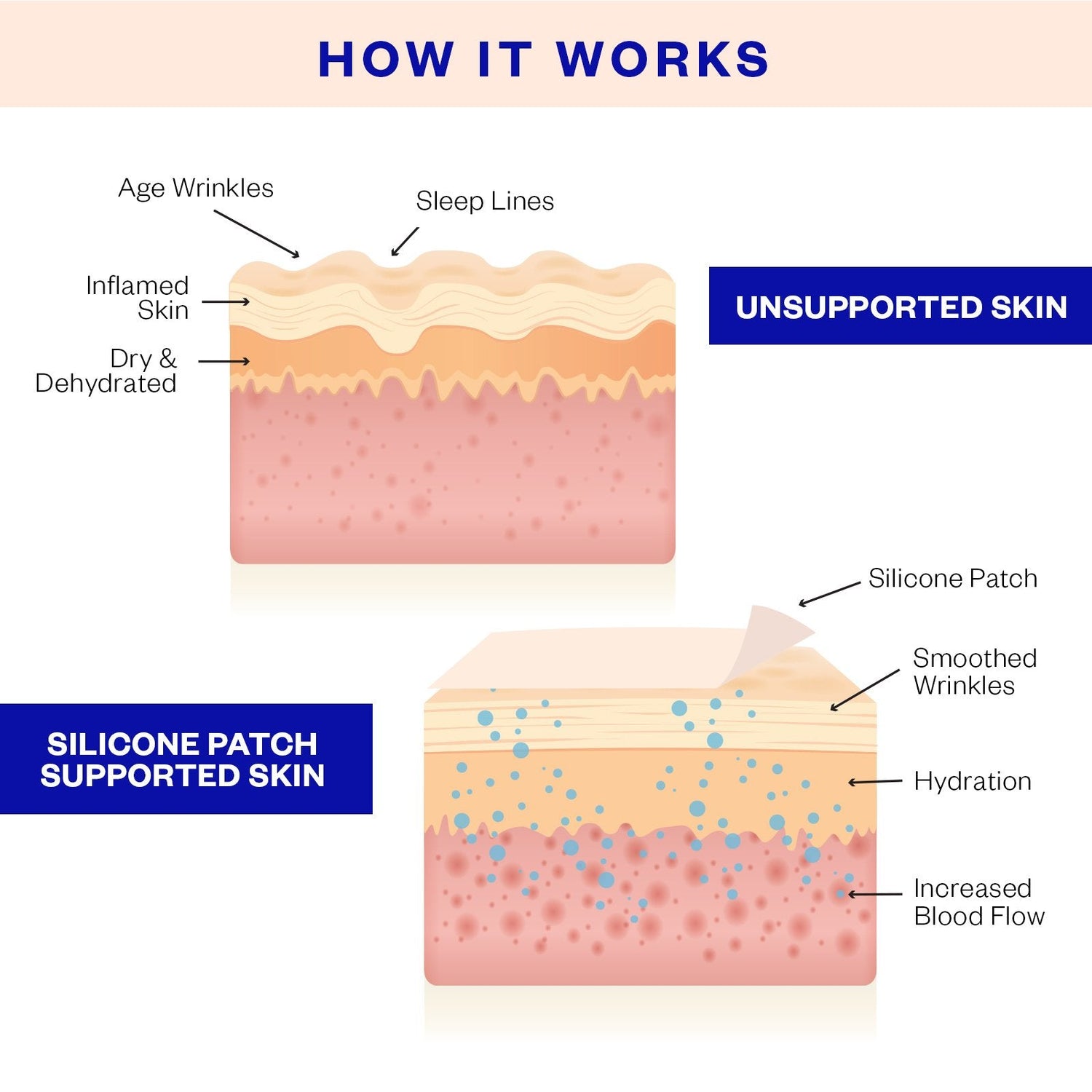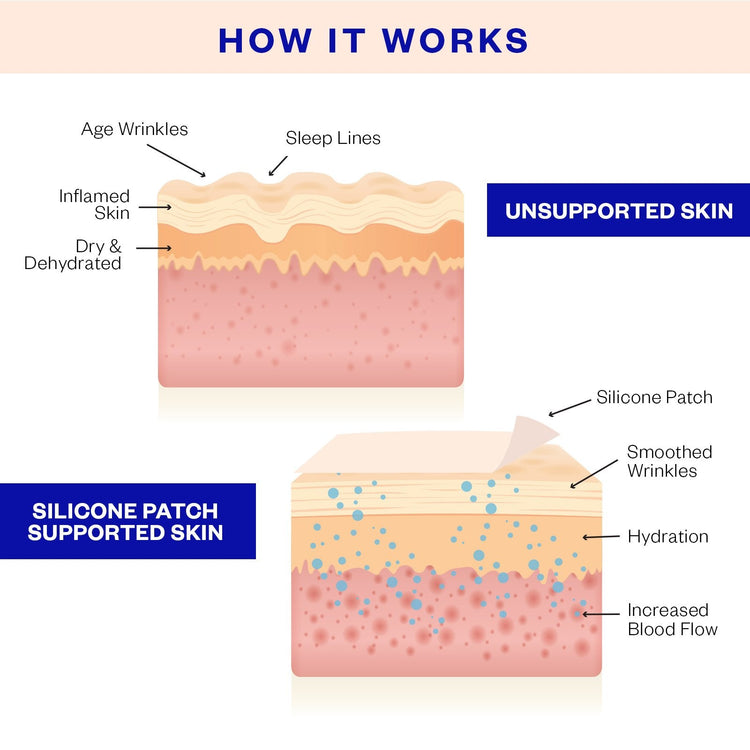 Wrinkles Schminkles

SPECIAL OFFER Chest Smoothing Kit
Sale price

$21.00

Regular price

$29.95

Unit price

per
This [limit-type] has a [limit-qty]-item limit per order
A little patience goes a long way. This item is not available just yet, but you can Pre-Order it now.
Check out our Pre-Order Policy to learn more.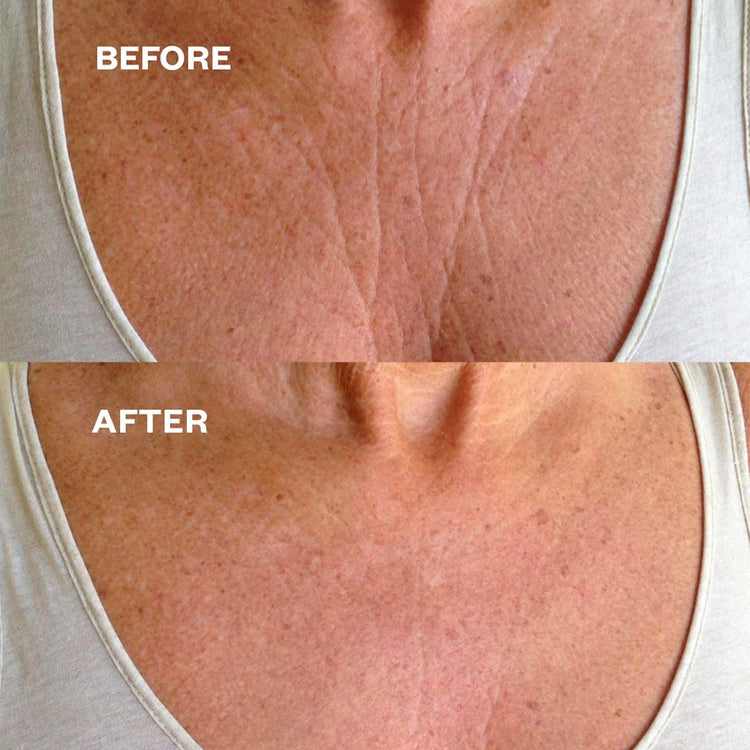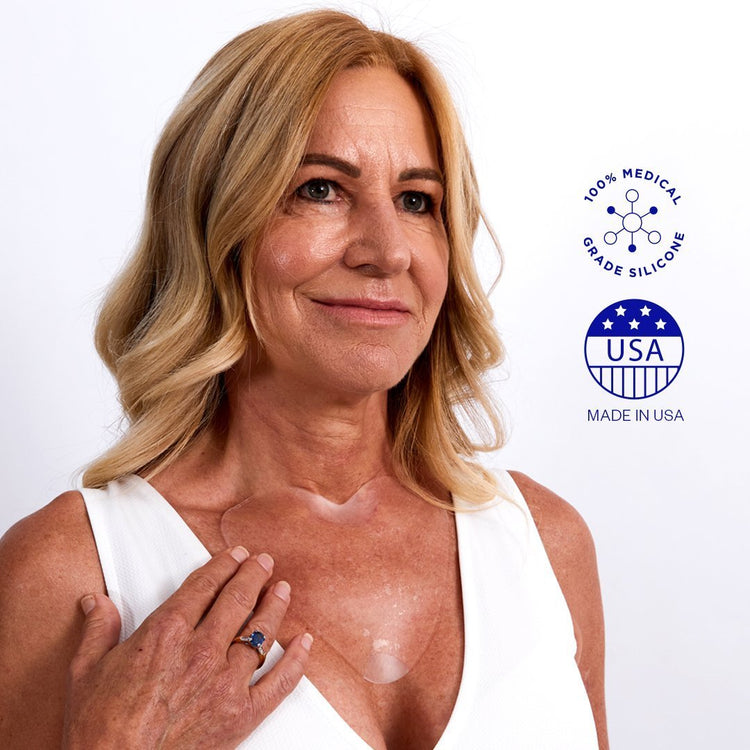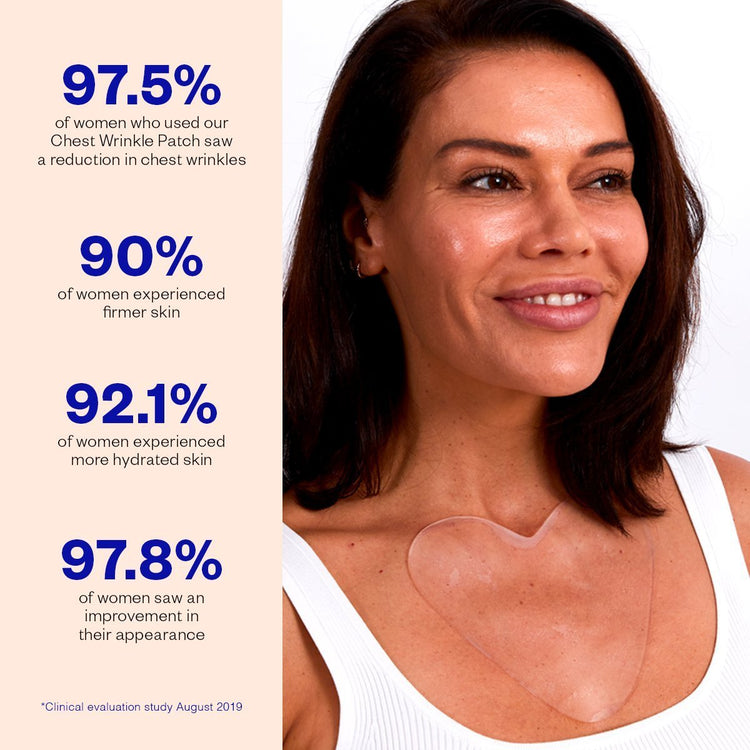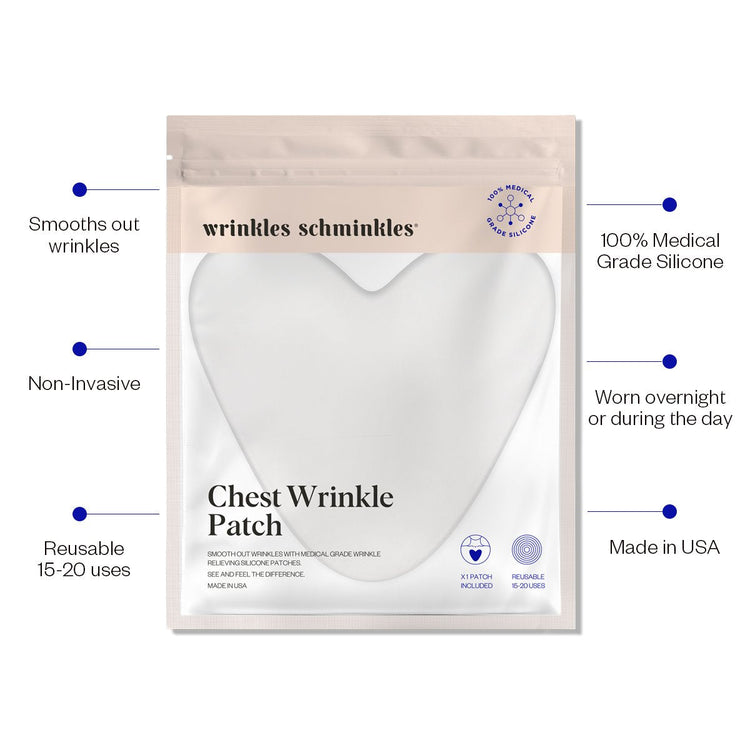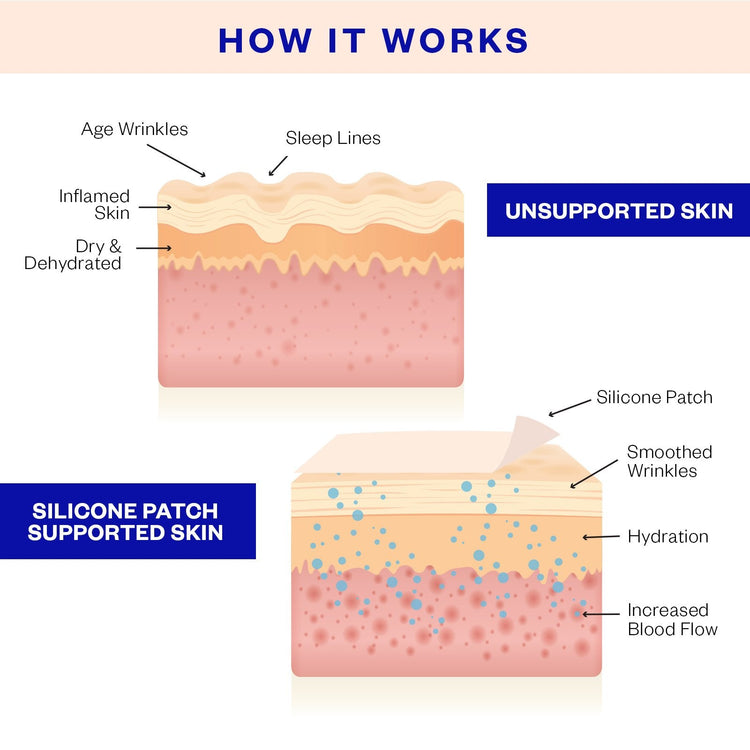 Correct and prevent wrinkles on your chest (otherwise known as your décolleté) caused by aging, sun damage, and side sleeping. 
Ideally worn overnight while you sleep, our 100% Medical Grade Silicone Patches work by comfortably hugging your skin and preventing the skin from being able to crease or wrinkle. At the same time, the patches support the skin's natural ability to hydrate the skin, retain the moisture, stimulate blood flow, and can help boost collagen production – that vital protein we lose as our skin ages.  
Experience a wrinkle-free chest or décolleté after your first use, and even better results over time. Wake up to smoother, fresher, and younger looking skin! 
 "The results speak for themselves, and after you see the results, you won't want to take it off. The heart-shaped pad is reusable up to 20–30 times, and while the overnight effect is crazy clear, consistent use of the pad will also help prevent further wrinkles from forming" – New Beauty. 
 "This reusable, medical-grade silicone pad sticks to your chest overnight to smooth out wrinkles caused by sun damage" - Closer Weekly.  
"Wrinkles Schminkles' is line of wrinkle-relieving silicone pads, offers several products to help reduce these issues - reduce fine lines, wrinkles, and pigmentation on the décolletage." – Martha Stewart Weddings. 
HOW IT WORKS: 
Gently adheres to the skin while you sleep to prevent creasing

 so

 wrinkles cannot form.

 

The magic of the Medical Grade Silicone gets to work on your skin by kick-starting your skin's natural ability to hydrate and retain moisture.

 

The microclimate formed between the skin and Silicone Patch stimulates blood flow and that all-important collagen production and retention.

Recommended by dermatologists, cosmetic skin doctors, and beauty editors across the USA.

 
BENEFITS & FEATURES:  
Non-invasive and affordable wrinkle-free chest patch.

 

Treat wrinkles caused by aging, sun damage, and side sleeping. 

 

Deliver

s

 best results

 while you sleep 

to stop those deep v's.

 

 

100% Medical Grade Silicone Patches.

 

Multi-use: Reusable for 15-20 times. 

 

Hypoallergenic for sensitive skin types. 

 

Made in the USA 

with the highest quality medical grade silicone.

FDA listed 

giving you confidence. 

 

Measurements: 

5.51 x 5.90 inches. 

 
TOP TIP: GET MORE USES OUT OF YOUR PATCHES BY USING OUR SPECIALLY FORMULATED CLEANING SOLUTION; DESIGNED TO CLEAN YOUR PATCHES, PROLONGING THEIR LIFE TO GIVE YOU WRINKLE-RELIEVING SWEET DREAMS AGAIN AND AGAIN (AND AGAIN). 
Wrinkles Schminkles Chest Silicone Patches are a must-have for rejuvenating your Chest and Décolleté, giving you back your confidence and your wardrobe choices!  

WHATS INCLUDED: 
1 Reusable Silicone Chest Patch (15-20 uses per pack).   

INGREDIENTS: 
100% Medical Grade Silicone.  

HOW TO USE:  
Cleanse and dry skin keeping it free of ANY skincare.

 

Peel away plastic layer of the Silicone Patch to reveal adhesive.

 

Stick Silicone Patch on the target area, adhesive side on skin. 

 

Wear while you sleep for best results or 1-2 hours for a boost.

Gently peel off Patches, sticking them on the enclosed storage sheet.

 

Clean patches if required or every few uses with our Cleaning 

Solution. 

 


OUR CHEST PATCHES ARE PERFECT FOR:  
Chest wrinkle sufferers, side sleepers, sun worshippers.

 

 

Nightly/daily use for the best results.

 

 

The night before a special event.

 

 

Bridal skin prep or Mother of the Bride.

 

 

Getting skin Summer ready.

 

 

Combatting dry Winter skin.

  

 


CLINICAL EVALUATION FINDINGS: 
A Clinical Evaluation of 92 women in August 2019 found: 
WRINKLE REDUCTION - 97.5% of women who used our Chest Smoothing Kit saw a reduction in chest wrinkles. 
FIRMER SKIN - 90% of women experienced firmer skin. 
 
REHYDRATION - 92.1% of women experienced more hydrated skin. 
IMPROVED APPEARANCE - 97.8% of women saw an improvement in their appearance.  
Choosing a selection results in a full page refresh.